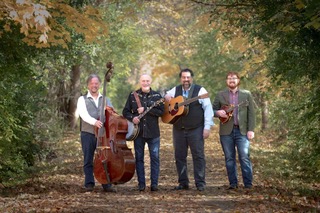 Special Consensus – 2019 Grammy Nominee
The Special Consensus is a bluegrass band that has achieved a contemporary sound in their four
decades of performing, making their music a modern classic. The band is led by Greg Cahill, banjo
player and recipient of the Distinguished Achievement Award from the International Bluegrass Music
Association (IBMA), and includes Greg Blake (guitar), Dan Eubanks (bass) and Michael Prewitt
(mandolin). Special Consensus has received six awards from the IBMA and two Grammy nominations.
They are four talented vocalists and instrumentalists who follow their creative desires without straying too far from their bluegrass roots. "Rivers and Roads" (Compass Records) was nominated for the 2018 Best Bluegrass Album GRAMMY award and received 2018 IBMA awards for Album of the Year and Instrumental Recorded Performance of the Year ("Squirrel Hunters"). "Chicago Barn Dance" (Compass Records) 2020 celebrates the 45th band anniversary and the connection of country and bluegrass music to Chicago from the time of the WLS "National Barn Dance" – precursor to the Grand Ole Opry. The title song "Chicago Barn Dance" received the 2020 IBMA Song of the Year Award.
www.specialc.com www.facebook.com/special.consensus Instagram: specialconsensus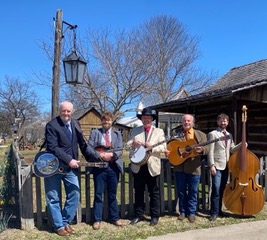 HillyBilly Fever is a hard-driving traditional Bluegrass band
based in the Dallas, Texas area.
Banjoist Mark Krider has deep bluegrass roots from the
mountains of North Carolina where he grew up listening to and playing bluegrass music. "You might
say its in the water there". Working hard to keep the traditional sound going, Mark formed
HillBilly Fever. The band has performed from the east to the west coast.
Randy Pasley, dobro player, also comes from the North Carolina mountains. Randy is a very
accomplished musician, winning numerous contests including for the dobro at The Galax Old Time
Fiddlers Convention. Randy is also a builder fine of instruments. After a long stay in Alaska,
Randy and his wife make their home in Ogden, Utah.
Billy Parker, mandolin player, is no stranger to the stage. Billy is one Arizona's most well-known
mandolin players. A freelance artist, he is adept at Swing, Jazz, American, Celtic and most of all
bluegrass music. Billy also sings lead, tenor and baritone. He makes his home in Chandler, Az.
Steve Harper, guitarist for the band, started performing at bluegrass festivals in 1977. He has
toured and performed
with some of the best in the business. Steve also sings
lead and has one of the most sought after flatpicking styles in bluegrass music. He makes his home
in Heflin, La.
Scott Norris, The Bass Man as we call him. is from Anchorage, Alaska. He just fell into playing
bluegrass as if he was from the hills of North Carolina. Scott sings lead and tenor and also plays
guitar. Scott and his family now live in Ogden, Utah.
Bob Frankot, fiddle player, is a very accomplished fiddle player performing in Southern CA for
many years and has performed with many bands in AZ. Bob and Mark have been bandmates since 2014,
irst starting Scattered Grass in Tucson, Az. Bob has traveled with HillBilly Fever from the west
to east coast. Bob and his wife make their home
in Tucson, AZ.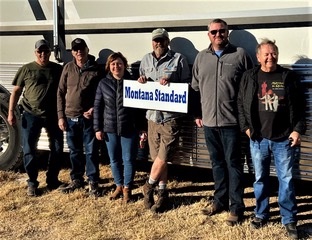 Montana Standard
Hot Bluegrass Pickin' & Singin'
Traditional Bluegrass Music from East of the Continental Divide!
These folks have been sharing stages in Montana for many years, dating back to the mid '70's.
Among them are National & State Fiddle Champions & Song Writers. Talented Instrumentalists, Great
Singers and best of all, they are good friends who love what they do.
Great music & Fun Times, Don't Miss 'em!
mtstanmard.com