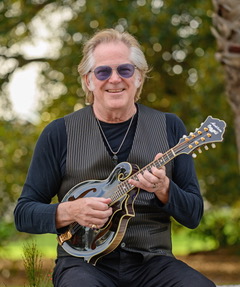 J2B2 (JOHN JORGENSON BLUEGRASS BAND)
J2B2 is an all-star bluegrass supergroup featuring four legendary, award-winning musicians – John
Jorgenson on acoustic guitar, mandolin and vocals; Herb Pedersen on banjo, acoustic guitar and
vocals; Mark Fain on bass; and Patrick Sauber on acoustic guitar and vocals – delivering bluegrass like
no one has ever heard it before. The band's undeniable live shows have received stellar reviews and
have the bluegrass world buzzing. The four combine forces to form a spot-on union of impeccable
musicianship, incomparable songwriting, incredible harmony vocals (a fresh twist combining bluegrass
with elements of West Coast folk rock) and seasoned showmanship. This is the "high lonesome sound"
of American roots music at its finest.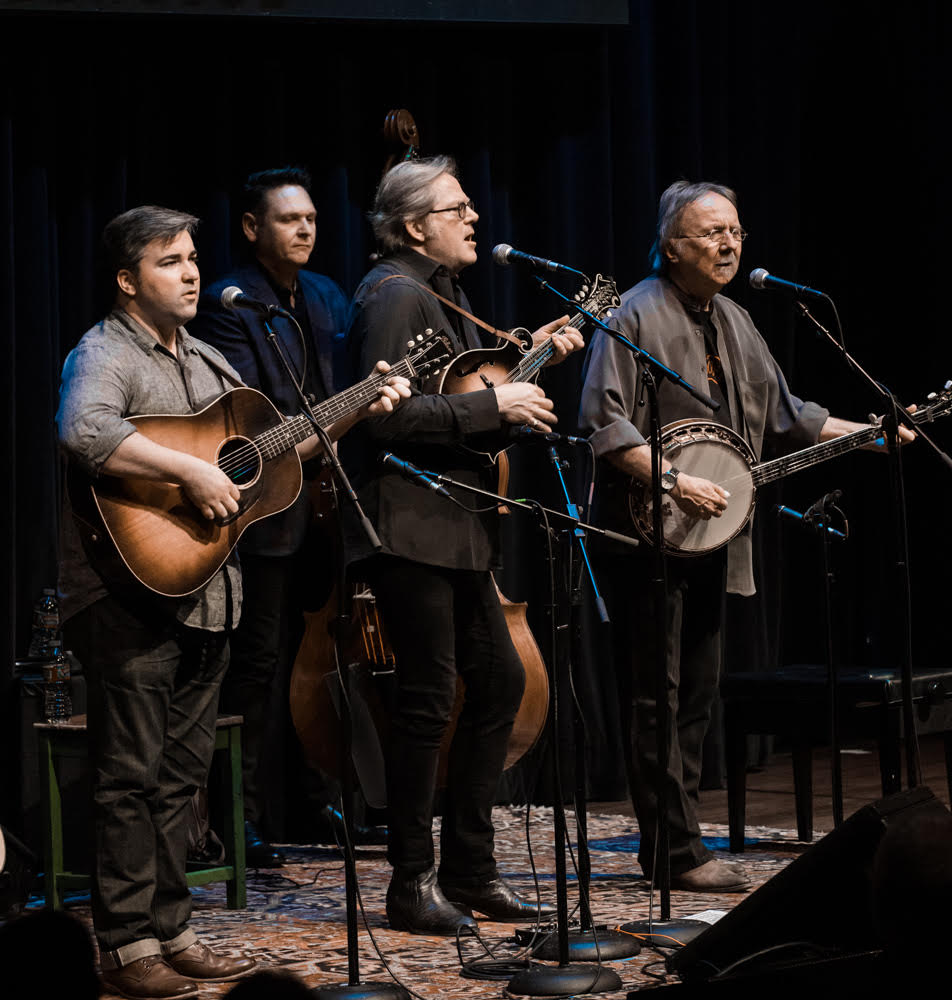 Jorgenson and Pedersen are founders (with Chris Hillman) of the formative country rock group Desert
Rose Band. After working as a freelance musician in Southern California, Jorgenson met Hillman and
soon formed the Desert Rose Band. In 1990, Jorgenson went on to found the Hellecasters and toured
with Elton John's band for six years. Artists ranging from Barbra Streisand to Bonnie Raitt to Earl Scruggs
have sought out Jorgenson's guitar work. Jorgenson portrayed Django Reinhardt in the Hollywood
feature film Head in the Clouds. In 2008, Jorgenson won a Grammy for Best Country Instrumental with
Brad Paisley and was nominated for Best Bluegrass Album with Earl Scruggs.
Herb Pedersen was a member of legendary bluegrass band The Dillards as well as bluegrass super-group
Old and In the Way. A sought-after singer and musician, he has worked with such music legends as Chris
Hillman, Earl Scruggs, Gram Parsons, Emmylou Harris, Tony Rice, Dan Fogelberg, Stephen Stills, Linda
Ronstadt, Kris Kristofferson, John Prine, Jackson Browne and John Denver.
Mark Fain toured and recorded as bass player for Ricky Skaggs and Kentucky Thunder for 13 years. He's
toured and recorded with the Dixie Chicks, Alan Jackson, Travis Tritt, Dwight Yoakam, Allison Krauss and
Dolly Parton, as well as producing many artists in jazz, country, bluegrass and gospel genres.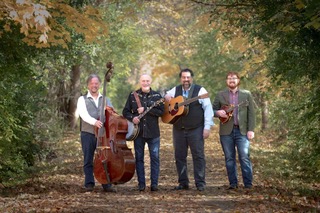 Special Consensus – 2019 Grammy Nominee
The Special Consensus is a bluegrass band that has achieved a contemporary sound in their four
decades of performing, making their music a modern classic. The band is led by Greg Cahill, banjo
player and recipient of the Distinguished Achievement Award from the International Bluegrass Music
Association (IBMA), and includes Greg Blake (guitar), Dan Eubanks (bass) and Michael Prewitt
(mandolin). Special Consensus has received six awards from the IBMA and two Grammy nominations.
They are four talented vocalists and instrumentalists who follow their creative desires without straying too far from their bluegrass roots. "Rivers and Roads" (Compass Records) was nominated for the 2018 Best Bluegrass Album GRAMMY award and received 2018 IBMA awards for Album of the Year and Instrumental Recorded Performance of the Year ("Squirrel Hunters"). "Chicago Barn Dance" (Compass Records) 2020 celebrates the 45th band anniversary and the connection of country and bluegrass music to Chicago from the time of the WLS "National Barn Dance" – precursor to the Grand Ole Opry. The title song "Chicago Barn Dance" received the 2020 IBMA Song of the Year Award.
www.specialc.com      www.facebook.com/special.consensus        Instagram: specialconsensus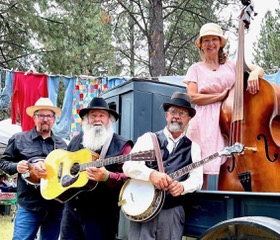 Randy Hackworth
Randy's roots take him back to the hills of Eastern Kentucky. Although
he has played in several bands and genres of music, his love and
passion is for that Bluegrass sound. As a singer/songwriter and
guitarist, it just seems to be the perfect fit.
Emily Frank
She was raised listening to nothing but bluegrass music, and it's still the
only music she listens to. She has played in several different bands.
The current group is called "Kentucky Sky" where she contributes with
acoustic bass and vocals, as well as writing songs. Emily says, "I love
playing music with these guys and doing harmonies. Plus I get to dress
old style and wear hats."
Fred Frank
Fred has been in many Bluegrass bands over the years starting his
Bluegrass career with the Stone Mountain Bluegrass Co. He has played
banjo, mandolin, and guitar in different bands, but in Kentucky Sky he is
on five string banjo and singing vocal harmonies. Fred says: "This is
one of the most traditional groups I have been in, and I'm having a
blast."
Chad Fadely
Chad is originally from Hot Springs, AR. Chad is the newest member of
the band but has shared the stage with Fred and Emily many times over
the years as a member of New South Fork. Chad has played in many
bands from MT and when not making his living playing the mandolin,
he's selling guitars for Music Villa in Bozeman, MT.
And a link to our Facebook page…. With lots of videos.